For the first time since the beginning of the UMETECH Project, MICC (University of Florence) visited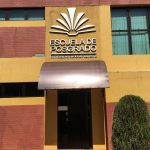 UNE  (Universidad nacional del Este) in Pataguay,  to assess the status of the work.
In that occasion we held together two productive meetings that greatly helped the project both from the technical and amministrative point of view. We also discussed about possible ideas for future work, for which the development will be followed by means of online meetings. The overall experience was very good and satisfying, also thanks to the the warm welcome we received.